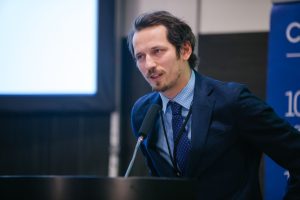 I am professor at the Faculty of Law and Administration of the University of Warsaw.
I teach European Union Institutional law, European Union Substantive Law and European Union public procurement law, as well as I carry out seminars (M.A. studies). I am also lecturer at an advocate traineeship in Warsaw Bar.
I have been visiting scholar in Cardiff, Beijing and Turin.
I am the member of the board of Public Procurement Law Association, as well as member of Polish Society of European Law, Prof. Zbigniew Hołda Association, the European Procurement Law Group, the Wiktor Osiatyński Archive Council, ClientEarth Council and the Legal Expert Team of Stefan Batory Foundation.
In 2019 I was awarded by the Dean of the Faculty of Law and Administration of the Warsaw University and in 2021 by the Rector of the Warsaw University for my scientific achievements (twice).
Since 2016 I am the member of the Council of the Faculty of Law and Administration and since 2019 the Council of the Discipline of Science – Law.
I am the author more than 90 scientific publications.
My research revolves around the rule of law in the European Union, EU public procurement law and State aid.
I am also legal adviser with 17 years of experience. I am recognised by independent legal directories, including Legal 500, as a key individual, and by Chambers Europe, as a lawyer recommended in Public Procurement in Poland.
In my spare time I travel (in particular in the Middle East), listen to music (mainly indie rock, e.g. the National, Interpol, Tame Impala or Bon Iver), watch sport (I am a fan of AC Milan) and row.